Umarex AirSaber Elite X2 PCP Double Barrel Air Arrow Rifle, 450+ FPS 2252157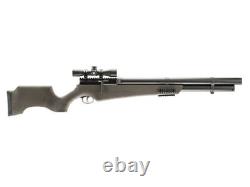 Umarex AirSaber Elite X2 PCP Double Barrel Air Arrow Rifle, 450+ FPS - 2252157. Airsoft Guns unless they follow CA SB199 requirements. 18 caliber must have a velocity of less than 700 FPS or an Illinois Firearms license is required. Silencers, baffles, mufflers or suppressors...
Internal, removable or non-removable (does not include fake suppressors). Pellet guns & BB guns. Are considered firearms per NJ state law.
Airsoft guns may be restricted by some local laws. It is up to you to determine if airsoft guns may be owned/possessed/used without special permits in their locale. New York City & it's 5 boroughs: Manhattan, Brooklyn, Bronx, Queens & Staten Island incl. ZIP Codes 100xx-104xx, 111xx, 112xx-114xx & 116xx. Locking Folding Knives with blades longer than 4 inches. 4,000 PSI Fill Pressure. 450+ FPS with 376 Grain Arrow. 14.5 Length of Pull. 3x Picatinny Rail Sections on Forend.
The leader in air gun innovation, Umarex USA, is setting the pace once again with an industry-first double barrel air archery gun, the Umarex AirSaber Elite X2 double barrel air archery gun is powered by air-- 4,000 psi of it. Equipped with a 240 cc onboard tank, the AirSaber Elite X2 will send 25 shots from its barrels at big game lethal velocity. The first five shots will all launch above 450 FPS and 130 ft-lbs of energy. Accessing the second shot just requires the press of a push-through barrel selector and an optic of your choice can easily be secured to the Picatinny rail section on the receiver. Additionally, the forend has three rail sections to assist in mounting quivers, bi-pods, or other accessories.
Included in the box - The AirSaber Elite X2, 3 AirSaber Arrows with 100 grain field tips, one fill probe, and the owner's manual. Muzzle Velocity: Up to 450 FPS (135 ft/lbs muzzle energy). Arrow Type: Umarex Straight Flight Technology Arrows : 22.63 w/field tip.
Fire Modes: Single Shot (Bolt action). Package Includes: AirSaber Rifle, 3x AirSaber Arrows, Fill Probe, Manual.