Seneca Aspen PCP Air Rifle. 22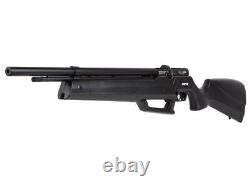 Seneca Aspen PCP Air Rifle, Multi-Pump PCP. Pre-charged Pneumatic (PCP) Air Rifle with built-in pump Sidelever Action Two Stage Velocity Adjustment Fires up to 17 Shots with 40-60 Pumps Two-Stage Adjustable Trigger Synthetic Stock 250 BAR / 3,600 PSI Fill Pressure On Board Pressure Gauge Automatic Overpressure Air Release Manual Safety Fully Shrouded Barrel Rifled Steel Barrel Pump Lock Carry Handle Overall Length: 43.3 Inches 11mm Dovetail Rail Includes 10-Shot Rotary Magazine. 25 Includes Fill Probe Includes Single-Shot Tray.
177 Caliber: Low Power= 800 fps, High=1,000 fps. 22 Caliber: Low Power= 700 fps, High=900 fps.