Portable 30MPA Auto-Stop 12V/110V PCP Air Compressor for Rifle Airgun Paintball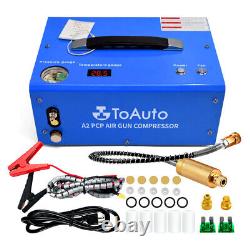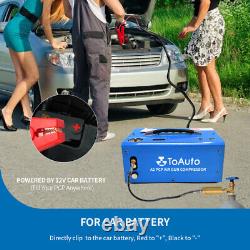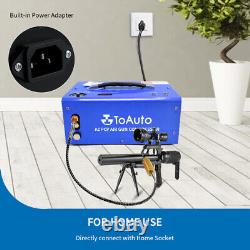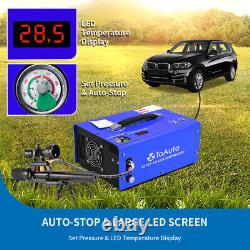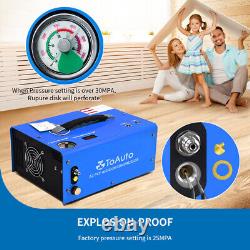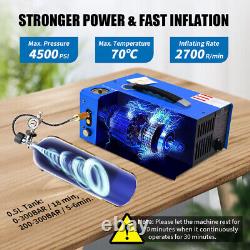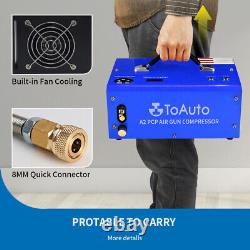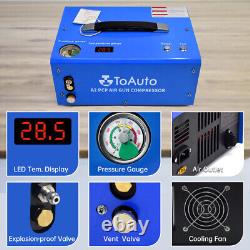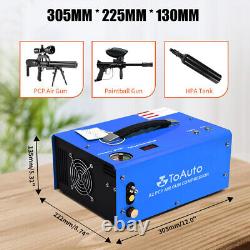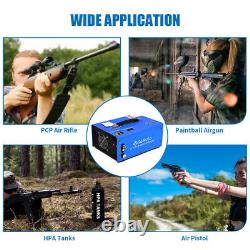 Multiple power sources, for car and home use 4. Portable PCP High Pressure Pump Air Compressor Auto-Stop Airgun Rifle 12V/110V. Voltage: DC 12V / AC 110V / AC 220V.
Working pressure: 4500PSI / 30Mpa / 300Bar. Charging rate:15min/0.5L tank. 2PCS 8MM quick connect female.
1PCS Oil-water separator (with pressure relief screw). [Pressure display] This product is equipped with a LCD screen, which can display the pressure value of the high-pressure pump air pipe, which is convenient for you to view and adjust to meet the pressure value required for different tasks. [Auto stop] This high-pressure pump has a built-in high-sensitivity pressure sensor with an automatic charging and stopping function.
When the pressure reaches the setting value, the machine will automatically stop. You can complete the inflation without staring at the pressure gauge. [Multiple power sources] This high-pressure pump is equipped with a built-in transformer, which can be used on three voltages: DC12V/ AC110V/ AC220V, so it is convenient for you to use it anywhere without voltage limitation. [Explosion-proof valve] This product is equipped with an explosion-proof valve. When the pressure reaches about 32MPA, the rupture disk will break and release the pressure by itself, making it safer to use.
[Fast inflation speed] The maximum pressure of this product is 4500PSI, which makes it only takes 15min for the pressure of a 0.5L diving bottle to rise from 0MPa to 30MPa. Note: Please let the machine rest for 20 minutes when it continuously operates for 30 minutes.
[Air cooling system] This air compressor pump is equipped with a built-in cooling fan, which. Has the characteristics of fast heat dissipation, not easy to oxidize, and long service life.
[Oil-water separation] This air compressor pump. Is equipped with an oil-water separator, which is widely used in diving cylinders, fire-fighting cylinders, paintball shooting, leak detection, pressure testing, and can also be used in cars, trucks, trucks, kayaks, Various balls, etc. [Meet all your needs] Adjustable pressure gauge, safety valve, and burst disc make this air compressor pump safer. With 8MM Quick Connector & Oil-Water Separator, it can efficiently filter oil and water in the air, output clean and dry high-pressure air. It is CE-EMC, CE-LVD, PSE certified safety in use, suitable for PCP air rifles, air pistols, paintball guns, and HPA tanks.
300Bar / 4500Psi / 30Mpa.