Hatsan FlashPup QE. 177 PCP Air Rifle 1150FPS, Synthetic Stock HGFlashPup177S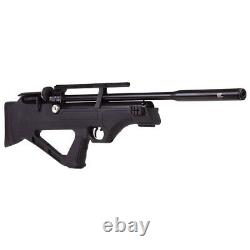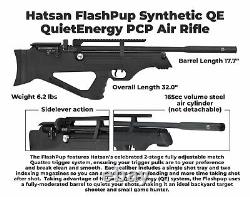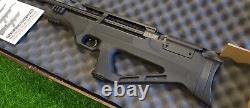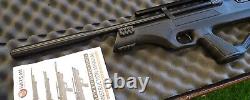 177Cal PCP Airgun, 1150 FPS Synthetic Stock - HGFlashPup177S. With big power in a small package, Hatsan enters the fray of affordable PCPs with the Hatsan Flashpup, a compact and highly-maneuverable version of the full-sized Flash PCP Air Rifle.
The Flash PCP platform strikes just in time to take advantage of a slew of accessible PCPs that don't skip on quality features and accessories. Powered by a fixed 165cc volume aluminum air cylinder with a 200 BAR fill pressure (2,900psi), the Flashpup slings its rounds at speeds up to 1150, 1000, and 870 fps in its. 22 and 40 fpe in. The powerplant is set into a finely grained ambidextrous synthetic stock that includes a pistol grip and adjustable cheekpiece to ensure proper eye relief and a comfortable hold. Resting under the foregrip is a Weaver/Picatinny accessory rail for mounting a bipod, and a combination Weaver/Dovetail mount is ready for the optics system of your choice. The Flashpup features Hatsan's celebrated 2-stage fully adjustable match Quattro trigger system, ensuring your trigger pulls are to your preference and break clean and smooth. Each caliber includes a single shot tray and two indexing magazines so you can spend less time reloading and more time taking shot after shot. Taking advantage of Hatsan's QuietEnergy (QE) system, the Flashpup uses a fully-moderated barrel to quiets your shots, making it an ideal backyard target shooter and small game hunter. Hatsan enters the affordable PCP market with a bullpup that provides the same quality features and design of higher-end PCPs. Hatsan Flashpup QE PCP Air Rifle.
Includes 2 indexing magazines and single-shot tray. Adjustable cheekpiece with integrated adjustment wheel.
Precision rifled and choked barrel. Anti-knock system prevents gas wastage when rifle is knocked or bounced. Combo Picatinny and 11mm dovetail rail. Quattro Trigger: 2-stage fully-adjustable match trigger. Fixed 165cc air cylinder, 200 BAR, 2,900 psi.
New York City, NY (all 5 boroughs) Zip codes: 10001 10292 (inclusive of all numbers). Buffalo, NY Zip codes: 14201 14280 (inclusive of all numbers). Rochester, NY Zip codes: 14602 14694 (inclusive of all numbers). Yonkers, NY Zip codes: 10701 10710 (inclusive of all numbers).
Cincinnati, OH Zip codes: 45201 45299 (inclusive of all numbers); and 45999. Philadelphia, PA Zip codes: 19019 19197 (inclusive of all numbers) and 19244, 19255. Johnson City, TN Zip codes: 37601, 37602, 37604, 37605, 37614, 37615. Washington, DC Zip code: 20004.