DAR Gen 3 PCP Air Rifle with Walnut Stock. 22 Caliber (5.5mm) 10 Rounds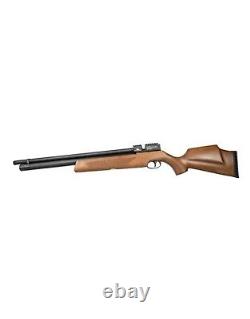 We only sell airgun products designated as BB or Pellet guns. Designed for both beginners and experienced shooters alike, these rifles pack more pound for pound performance and features than any other PCP rifle in their category! From the ground up these rifles were crafted to rival industry leaders in both accuracy and power.
All calibers boast a steel 16.25-inch barrel that delivers remarkable accuracy and consistency. The vibration dampening properties of our steel barrel design afford the shooter the ability to make quick follow up shots with ease. These industry leading features coupled with the stunning walnut finish of the Monte Carlo stock makes rifles a fine addition to any shooters collection.
It's up to YOU to know the laws in your state, county and city and to fully comply with them. (New York Boroughs, Philadelphia Pennsylvania, Chicago Illinois, Washington DC, New Jersey).