Benjamin Akela PCP. 177 Cal Pellet Multi-Shot Hunting Air Gun Rifle 1100 FPS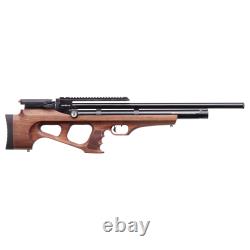 Benjamin Akela PCP Air Rifle. 3000 PSI/206 BAR fill pressure. Turkish walnut thumbhole stock with checkered pistol grip. Up to 60 shots per fill.
Male Quick Disconnect Fill Fitting. 2-stage trigger with adjustable shoe. Shorter and lighter than similar models in the Benjamin lineup, the Akela still has up to 32 FPE of power in. 177 caliber, making it ideal for small game hunting or pest control.
The Akela offers adjustability and flexibility with an adjustable cheek rest, external power adjuster, and integrated manometer. Combined with the shrouded barrel, this airgun allows shooters to get relatively quiet and dependable shots. The checkered grip and thumbhole stock combine with the rubber recoil pad to create a comfortable gun that allows accurate shots, and the unique sliding feature of the cheek rest offers a compact method of getting proper eye relief and cheek weld. When filled to 3000 PSI, the 280cc air cylinder gives up to 60 shots, and the 2 included rotary magazines mean less stopping to reload. This rifle features a long Picatinny optics rail for mounting scopes, and includes a vertical and horizontal shoe adjustment for the 2-stage trigger. With a convenient sidelever and a quick-disconnect Foster fitting, it's also simple to fill and shoot.