Air Venturi Avenger Bullpup. 25cal, Regulated PCP Air Rifle with Bundle Options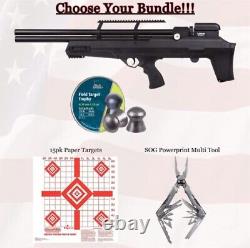 25cal, Regulated PCP Air Rifle w/ Bundle Options- AV-00207. The Air Venturi Avenger Bullpup Regulated PCP Air Rifle takes all of the popular features from the original Avenger and places them into a bullpup format for excellent maneuverability. It still has the incredible accuracy and flexibility of the previous versions, but now measures only 33" long overall, down from about 43" overall for the longer versions. The new format also introduces a pistol grip, tactical-look stock, and two additional forearm Picatinny accessory rails, as well as magazine storage compartments integrated into the stock.
The cheekpiece is now adjustable, and the picatinny optics rail has been lengthened and raised to allow larger scopes. The air rifle retains the incredible adjustability of previous versions, with the ability to easily tune it for different types of shooting and situations. Shooters with a hand pump may prefer a lower-pressure, lower-power setup that doesn't require as much effort to fill, whereas people with high-pressure compressors may favor a high-power setup that fully utilizes the maximum regulator pressure of 3000 PSI. Regardless of the specific tuning choices, the Avenger delivers accurate shots. The stock has a regulator pressure gauge on the right side and a fill pressure gauge on the left side to make it easy to adjust the airgun and to monitor the performance of each shot. A smooth sidelever provides simple and consistent cocking and operation, and the two-stage adjustable trigger allows shooters to get the exact break desired for maximum accuracy. PCP Sidelever Max velocity: 900 fps.
25 Max power: 45 fpe. 25 Synthetic bullpup stock Externally adjustable regulator (up to 3,000 psi/210 bar) Easily accessible hammer spring adjustment screw 2 stage adjustable trigger Max fill pressure: 4,351 psi (300 bar) 180cc air cylinder Built in magazine storage compartments in stock Vertically adjustable butt pad Fully shrouded barrel Three Picatinny rails on fore-end of stock Textured grip and forearm Four position adjustable cheekpiece Holes in front and rear of stock for mounting swivel studs for a sling Dual gauges - reg pressure (RH Side) and fill pressure (LH Side) Male quick disconnect fill fitting Easy access degassing screw Manual safety Picatinny optics rail Magazine capacity: 8rd. 25 Barrel length: 22.75" Overall length: 33" Includes two magazines and single shot tray.
25 Cal Pellets by H&N, 10pk Paper Targets. 25 Cal Pellets by H&N, 15pk Paper Targets, SOG Multi Tool. Hawke 14120 Vantage 3-9x40mm 30/30 Duplex Reticle Rifle Scope w/ Ring Mounts. We welcome your inquiries, feedback, or requests regarding our products. Your complete satisfaction is our top priority.